--HB Advertisement--

--NewHB Advertisement--

Nollywood actress, Tonto Dikeh has slammed her estranged husband, Olakunle Churchill after the latter accused her of trying to kill him.
--HB Advertisement--

Amidst the ongoing saga between the couple, Churchill shared a voice note where Tonto can be heard saying she would have poisoned him if they were still together.

Listen to the voice note here;
Reacting to the voice note, Tonto admitted that she only made that threat because Churchill was physically abusive towards her and she could not take it anymore.
She wrote;
"ABOUT THAT VOICE NOTE YOU ARE REALLY LUCKY I LEFT YOU, BECAUSE ONE MORE HAND YOU PUT ON(physically fighting me like a man and cleaning my bl&&d afterwards) WLD HAVE BEEN YOUR E
D.. On God!"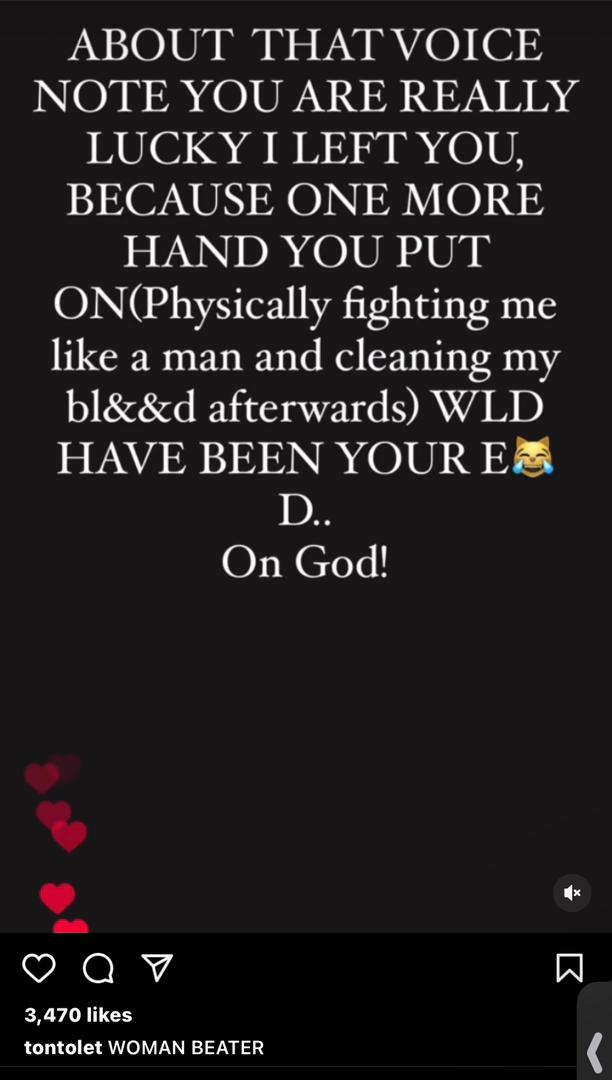 In her words;
"Thinking I have not moved on is the worst mistake you can make. I came out to make a point
THAT YOU ARE A LIAR AND A DEAD BEAT FATHER who neither pays fees nor child support to any of your children!!
This should sink, Learn to be a man from David. You have always been a big fan of his, adopt his fatherly nature at least to your daughter cause like I said MY CHILD WILL NEVER NEED NOTHING FROM YOU NOT EVEN YOUR SO CALLED GOD FORSAKEN NAME.. I AINT GONNO BE STUCK ON A MAN I DUMPED THAT CLIMBED THE SEVEN MOUNTAINS TO TRY TO GET ME BACK.
Nahhhh bruv!!!
Before you check out Abeg post receipt of school fee and that card account balance!!"