He tagged Ruth as a clout chaser and asked her to delete her previous post or face legal action.
Innocent Ruth, a former Corps member who went viral after she shared photos of herself and a tall male colleague alleging he was her lover, has spoken on why she made the false claim
Ruth had taken to Facebook on Tuesday, March 14, to share photos of herself and Philip that were taken at the Bayelsa State orientation camp of the National Youth Service Corps and claimed they were lovers.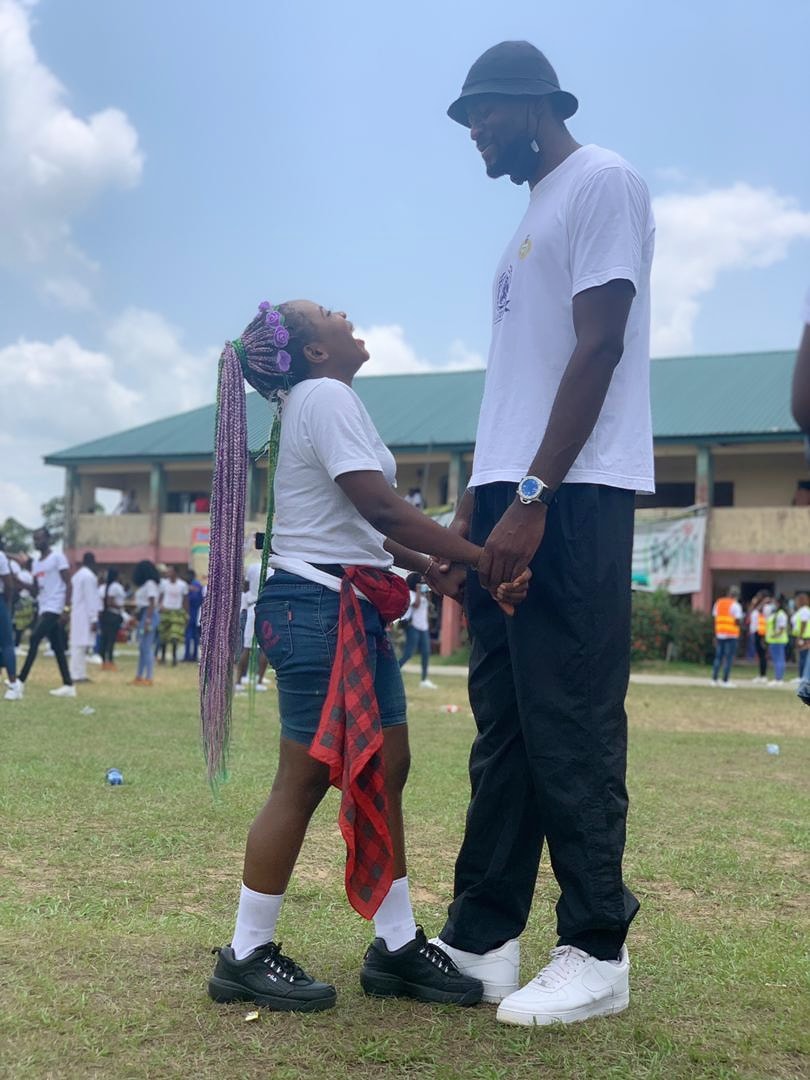 According to her, they met at the orientation camp and began dating afterward.
Ruth's post garnered a lot of attention on social media due to the difference in their heights. Many gushed over the love story and congratulated Ruth on finding love.
In a quite shocking twist, Nigerians woke up on Sunday to the disclaimer of the young man in the photo, Philip Ayobami, denying being in a relationship with Ruth.
He tagged Ruth as a clout chaser and asked her to delete her previous post or face legal action.
Following the disclaimer, Ruth took to her Facebook page to admit that she lied and that there was no relationship between her and Philip.
Speaking on why she put up the post, she said she just wanted to see people's reactions given the buzz their heights generated at the orientation camp.
She clarified that she didn't make the post for clout or attention and was just having fun.
"Just because Akande Phillip Ayobami posted a disclaimer all of a sudden he is the good guy and I'm the villain. Its okay though, i understand the "social media" i did not expect less.Before I started all this I know what I was opting for, I can't go into too much details, it would be cumbersome. Anyways, yes, Philip isn't my boyfriend, but after I came up with this and posted it I told him everything n how we have to play along for some time to see/hear what people will say, he accepted it all,I asked him if he has a girlfriend he said "No, he never sounded like it will ever be an issue for him, I know he isn't my boyfriend, was never my boyfriend either.

That kind height habah na, lol! una wan kill me, as i dey for ground so?. this whole thing was supposed to be a show, it was an idea i came up with while in NYSC Camp. seeing the contrast in our height, we had lots of attetion in camp, so i thought i could come up with something about this, though not in this manner. The original idea was to write a script, a story about a tall girl and a short guy. I'm an actress, a showbiz person, and you know how it is with us and show, its okay if you don't understand.

When i came up with this and posted it, the mistake i made was not call the above mentioned man. I just wanted to have fun from seeing peoples reactions and comments, I did not even think the whole thing will move this fast, at least not as fast as it did, but when it did, i had to keep up with it. When Phillip saw it has gone viral he called n asked me to bring the post down,I told him the post will be brought down but not immediately because the aim at which the post was made has not been accomplished, The post was never made against his will we got talking about all this, eventhough he showed resentment, he wasnt even certain about not going on with or not, it was more like he liked the idea, but something was holding him back which he did not say at first. but later on he mentions something about that fact that i have a boyfriend already and he might not get any girl that would want to date him again, i told him my boyfriend doesnt even know about this, that my boyfriend really thinks i have left him and I'm engaged. He said some other things and we just laughed about it.

His response wasn't a definite yes or no, the only thing i know he didn't want to do was the interviews.
In a nutshell, all this wasnt real, you may want to call it fake news as he did or whatever. Still mr. Phillip I'm sorry for first starting this before letting you know. You fit talk say i no be your friend, but the moments in the pictures says otherwise, and you be my guy last last. And yeah, he had moments like this with other girls too. And to the bloggers and all the news agencies i made believe, I'm sorry too. And to the social media world and my small fans wey i get, I'm sorry guys.

In all, this, Like Rema said, "criuse no dey finish inside this country" so in all lets just stay safe have fun and be happy. cheer. PS: i didn't do that because i wanted attention, if you know me on a personal note, i be vibe myself, my height, my charisma and confidence, gives me enough attention, and i know its just a matter of time, things go aline and all of una go dey feel my vibe. I love you all." She wrote on Facebook.
See her post below,