--HB Advertisement--

--NewHB Advertisement--

Popular Barbadian singer, Rihanna is pregnant with her second child!
--HB Advertisement--

The 34-year-old billionaire singer and businesswoman made the big reveal during her performance at the Super Bowl in State Farm Stadium in Glendale, Arizona, on Sunday, February 12.
The megastar singer, who showed off her baby bump in an all-red ensemble, mounted the stage to deliver an electrifying performance during halftime but fans were more elated by her unexpected pregnancy reveal.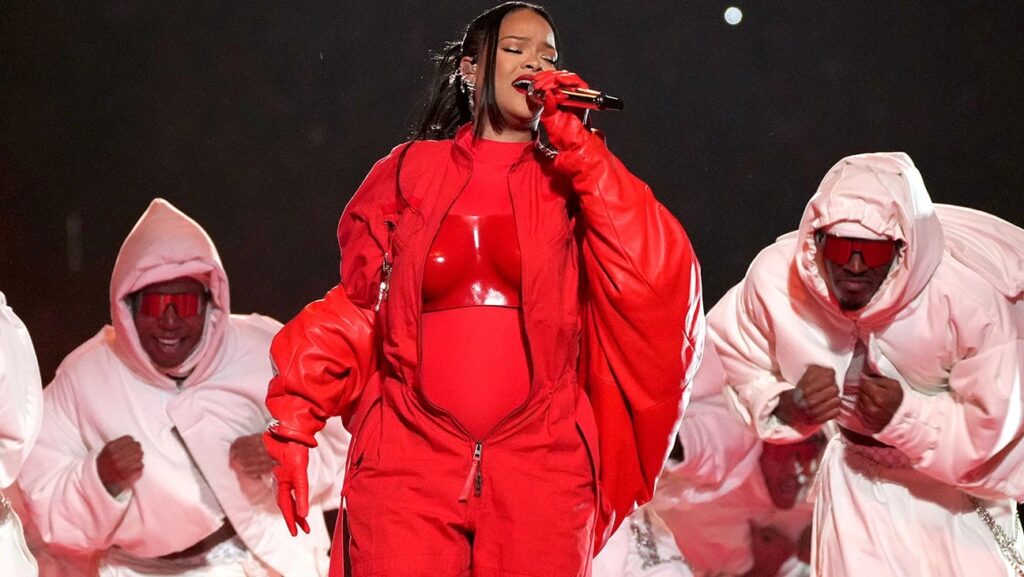 A representative for Rihanna also confirmed to The Hollywood Reporter that the superstar is pregnant following her explosive Super Bowl performance.
This will be her second child with her beau, rapper A$AP Rocky, as they welcomed their first child in May 2022.
See another photo below,
In December, Rihanna for the first time shared photos and a video of her son seven months after his birth.
The Barbadian singer, who welcomed her first child with her boyfriend, A$AP Rocky, on May 13, took to TikTok to share a video of her son as her first-ever post on the social media platform, and it has garnered millions of views and likes since it was posted on Saturday, December 17.
In the 45-second clip captioned "Hacked", Rihanna's son is seen smiling and giggling as he attempts to grab his mom's phone and his mom was heard saying, "You're trying to get mommy's phone?".
She has, however, not shared any other details about her son, including his name.